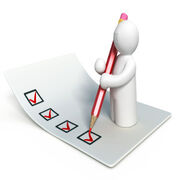 Checklist analysis is one of the tools and techniques to accomplish the PMI process to identify risks. Analyze a checklist of potential risks to identify the ones that are relevant for the current project. (See the article on risk for links to multiple lists of potential risks.) Rather than going through a long, exhaustive list of potential risks, an organization may keep a shorter list that has more relevance to the type of projects and risks they run. This more selective list could be part of the organizational process assets.
Checklist analysis is described in section 11.2.2.3 of the PMBOK, 5th edition.
Ad blocker interference detected!
Wikia is a free-to-use site that makes money from advertising. We have a modified experience for viewers using ad blockers

Wikia is not accessible if you've made further modifications. Remove the custom ad blocker rule(s) and the page will load as expected.