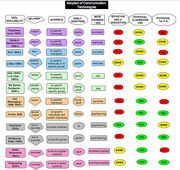 Communication technology provides the method for sharing communications. Older, less high tech methods include meetings, paper memos, mail, letters, telephone calls, and bulletin boards. Technology can include email, electronic message boards, instant messaging, telephone conferences, document and team sharing tools (e.g., SharePoint, Jive, wiki, web sites and tools built into other tools such as SalesForce).
The 5th edition of the PMBOK has more about selecting communication technology in section 10.1.2.2.
Communication technology is an input for both the plan communications management and manage communications processes.
Related: project communications, communication methods, communications management, communications calendar, communication
Ad blocker interference detected!
Wikia is a free-to-use site that makes money from advertising. We have a modified experience for viewers using ad blockers

Wikia is not accessible if you've made further modifications. Remove the custom ad blocker rule(s) and the page will load as expected.