Develop project charter is the first process in the PMI structure. It is in the Initiating process group and the project Integration management knowledge area.
The project charter authorizes the project, identifies key aspects of the project and is an input to multiple other components of project management.
During early phases, like this one, it may be useful to review the lessons learned from previous projects, which are part of the organizational process assets. This way the project can benefit from knowledge gained in earlier projects.
According to the PMBOK, this activity has the following characteristics:
Develop project charter: PMBOK, 5th edition, section 4.1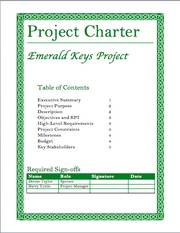 Related: sponsor, PMI processes
This process flows into 4.2 Develop project management plan, 5.1 Plan scope management, 5.2 Collect requirements, 5.3 Define scope, 6.1 Plan schedule management, 7.1 Plan cost management, 11.1 Plan risk management, and 13.1 Identify stakeholders.
External links
Edit
Ad blocker interference detected!
Wikia is a free-to-use site that makes money from advertising. We have a modified experience for viewers using ad blockers

Wikia is not accessible if you've made further modifications. Remove the custom ad blocker rule(s) and the page will load as expected.