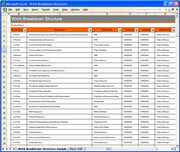 Document templates can save a team effort and time. They can reduce the amount of time spent "recreating the wheel". Templates or standard formats can also save time when the team knows where to put and find information. One of the services provided by the PMO is the consolidation and distribution of templates.
Related: organizational process assets
Ad blocker interference detected!
Wikia is a free-to-use site that makes money from advertising. We have a modified experience for viewers using ad blockers

Wikia is not accessible if you've made further modifications. Remove the custom ad blocker rule(s) and the page will load as expected.