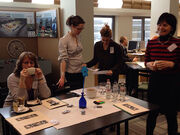 A focus group is a way to use representatives of a larger population to gather ideas. In a facilitated session, representative stakeholders meet, with a facilitator, and sometimes with experts to discuss their preferences and needs. This information is used to identify requirements. It is listed as one of the tools and techniques for the PMI process to collect requirements (section 5.2.2.2 of the PMBOK, 5th edition).
Focus groups can also be used in other contexts to evaluate things like products, advertising campaigns, and attitudes (for instance in political campaigns). In addition to initial requirements gathering, focus groups can test the implementation, find errors, or brainstorm ways to address issues or risks.
External links
Edit
Ad blocker interference detected!
Wikia is a free-to-use site that makes money from advertising. We have a modified experience for viewers using ad blockers

Wikia is not accessible if you've made further modifications. Remove the custom ad blocker rule(s) and the page will load as expected.