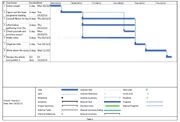 A Gantt chart is a commonly used display format to show the activities of a project and their completion status. Most schedule tools have the capability to show the schedule in this format. Generally activities are shown as horizontal bars laid out on a timeline from left to right. In some common tools, the bars are different colors to indicate which tasks have been completed (or the rough proportion of completion), and thin vertical lines indicate dependencies.
Gantt charts are sometimes referred to as bar charts. Be aware there are also other types of bar charts.
Related: Time management, Schedule, Scheduling tool, PERT

Practice Question
Edit
PMP or CAPM Exams
True or False? The Gantt chart is intended to effectively and clearly show project activity dependancies.[1] (Scroll down for the answers.)
spacers before answers
External links
Edit
References
Edit
↑ Kerzner, Harold and Saladis, Frank P. Project Management Workbook and PMP/CAPM Exam Study Guide. Ninth Edition. 2006. pp. 160 and 164.
Answers to Practice Questions
Edit
False. Gantt charts clearly show the progress of activities. A network diagram shows dependancies, and a PERT chart displays activity dependancies as well as other information.