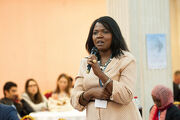 Human resources (HR) are the people that the project or organization can draw on for effort or expertise. The people involved in a project are a key component and managing them is a critical project management skill. Human resource management is one of the ten PMI knowledge areas.
Related: role, organization chart, organizational breakdown structure, enterprise environmental factors, human resource management plan, plan human resource management, resources
Many organizations used to have a department called the employment office; many of those are now called the HR department.
Ad blocker interference detected!
Wikia is a free-to-use site that makes money from advertising. We have a modified experience for viewers using ad blockers

Wikia is not accessible if you've made further modifications. Remove the custom ad blocker rule(s) and the page will load as expected.