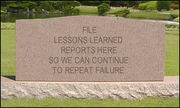 Lessons learned from each project can be used to improve the next project. Lessons learned can be about things to avoid, things to repeat, good sources. Lessons learned are part of the organizational process assets. Lessons learned can be captured at any point during the project, but especially as you close project or phase. As the next project or phase begins, it is good to review the previously identified lessons.
Related: communication methods, closing
In order to be most effective lessons learned must be documented and saved where they can be accessed by others. A PMO is one good place to save the lessons for sharing.
Lessons can be about
| Category | Example |
| --- | --- |
| Timing | How long it takes to get zoning approval |
| Costs | How much the materials cost in previous projects |
| Expertise | What knowledge areas were key on similar projects and who is knowledgeable in those areas |
| Communication | A distribution list that was particularly useful on an earlier stage of the project |
External links
Edit
Walker, L. W. (2008). Learning lessons on lessons learned. Paper presented at PMI® Global Congress 2008—North America, Denver, CO. Newtown Square, PA: Project Management Institute.