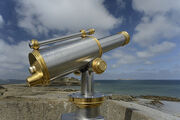 Observations are one of the tools and techniques for the PMI process to collect requirements (see section 5.2.2.7 of the PMBOK, 5th edition). Specifically the PMBOK recommends using this technique to gather requirements related to how experts do their work, which is also called "shadowing" sometimes.
Note: Raw observations are also part of work performance data, although they are not mentioned as a tool or technique for that process in the PMBOK. Observations may be useful in other parts of management, operations, and projects as well. For instance, observations are useful in product testing.
Related: observation and conversation
Ad blocker interference detected!
Wikia is a free-to-use site that makes money from advertising. We have a modified experience for viewers using ad blockers

Wikia is not accessible if you've made further modifications. Remove the custom ad blocker rule(s) and the page will load as expected.