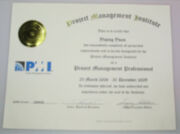 PMP® or Project Management Professional is the certification awarded by PMI to people who meet the organization's qualifications. The qualifications include hours as a professional project manager, passing the PMP exam and coursework. In addition, to maintain the certification the person must continue his or her education with Professional Development Units (PDU).
Related: PMP practice questions
Ad blocker interference detected!
Wikia is a free-to-use site that makes money from advertising. We have a modified experience for viewers using ad blockers

Wikia is not accessible if you've made further modifications. Remove the custom ad blocker rule(s) and the page will load as expected.