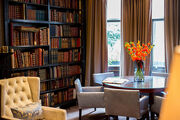 Reading books on project management can improve your knowledge and skills. It is also one way to meet the continuing education requirements that some professional certifications require (e.g., PMI PDU).
Related: PM online courses, PM web sites, PMI Talent Triangle, PM quotations
Suggested reading and authors on project management:
Related topics
Edit
Change management and motivation
Edit
Who Moved My Cheese? by Spencer Johnson
Start with Why by Simon Sinek
Rules for Radicals by Saul Alinsky
The Effective Executive by Peter F. Drucker
The Bass Handbook of Leadership by Bernard M. Bass
Ohio State researcher, compiled an encyclopedic index of research on leadership
Many of the books listed here were suggested by the Project Management Mentors of Detroit.
External links
Edit
Ad blocker interference detected!
Wikia is a free-to-use site that makes money from advertising. We have a modified experience for viewers using ad blockers

Wikia is not accessible if you've made further modifications. Remove the custom ad blocker rule(s) and the page will load as expected.