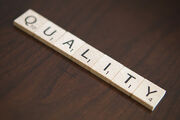 Plan quality management is a PMI process in the planning process group and quality management knowledge area. As the title implies that this process is intended to plan how the quality of the project will be managed. It requires identifying the quality requirements and how the deliverables and project will demonstrate compliance with those requirements or other standards.
According to the PMBOK, this activity has the following characteristics:
| Inputs | Tools and Templates | Outputs |
| --- | --- | --- |
| project management plan, stakeholder register, risk register, requirements documentation, enterprise environmental factors, organizational process assets | cost benefit analysis, cost of quality, seven basic quality tools, benchmarking, design of experiments, statistical sampling, additional quality planning tools, meetings | quality management plan, process improvement plan, quality metrics, quality checklists, project documents updates |
Section 8.1 of the PMBOK, 5th edition.
The other two quality processes are perform quality assurance and control quality.
Ad blocker interference detected!
Wikia is a free-to-use site that makes money from advertising. We have a modified experience for viewers using ad blockers

Wikia is not accessible if you've made further modifications. Remove the custom ad blocker rule(s) and the page will load as expected.