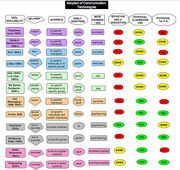 Project communications are created as an output from the PMI process to manage communications and they are an input to the process to control communications. Some of the communication needs may be identified during plan schedule management.
Poor communications are a common cause of project delays and failures.
Project communications are necessary for multiple purposes. Some of those purposes are
Factors to consider are the audience, push vs pull, technology, level of detail, format, formality, confidentiality, frequency, and timing. The organizational process assets may provide some guidance with templates and the organization's standards.
Related: communication, communications management, communication methods, communication technology, communications management plan, communications calendar, meetings
See section 10.2.3.1 of the PMBOK, 5th edition.
External links
Edit
Ad blocker interference detected!
Wikia is a free-to-use site that makes money from advertising. We have a modified experience for viewers using ad blockers

Wikia is not accessible if you've made further modifications. Remove the custom ad blocker rule(s) and the page will load as expected.