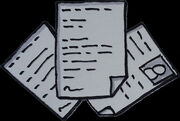 Project documents help to manage projects. Various documents are useful at different stages of the project. The required documents and their names may vary from organization to organization. So for some project management processes, the generic "project documents" is given as an input. Or project documents updates is listed as an output for those processes which are likely to require changes to existing documents. Some examples of processes where project documents are an input are perform quality assurance, identify risks, control stakeholder engagement, and conduct procurements.
External links
Edit
Ad blocker interference detected!
Wikia is a free-to-use site that makes money from advertising. We have a modified experience for viewers using ad blockers

Wikia is not accessible if you've made further modifications. Remove the custom ad blocker rule(s) and the page will load as expected.