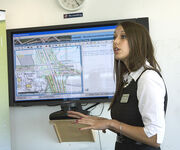 A project management information system is a system, usually a computer program, that helps to track parts of the project. The system is one of the enterprise environmental factors. While it can be useful in many of the project management processes, a project management information system is most valuable during the PMI processes of monitor and control project work and direct and manage project work (see sections 4.3.2.2 and 4.4.2.3 of the PMBOK, 5th edition). Project management information systems or tools range from simple lists to complex analytical techniques to large, integrated, enterprise computer programs. Many of the tools are associated with specific PMI processes by being identified as one of the tools and techniques of that process.
Project management information systems can automate tasks associated with the schedule, cost, key performance indicators, work authorization, communication, and configuration management.
Some common tools are
MS Excel
MS Project
CA PPM
Related: risk register, stakeholder register, scheduling tool, change control tool
Ad blocker interference detected!
Wikia is a free-to-use site that makes money from advertising. We have a modified experience for viewers using ad blockers

Wikia is not accessible if you've made further modifications. Remove the custom ad blocker rule(s) and the page will load as expected.