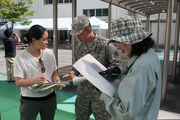 Resources are one of the constraints on a project. There are multiple different kinds of resources. The resource breakdown structure is a tool used in project management to hierarchically organize the required resources for the project. Some potential top-level categories are human resources, supplies, equipment, information (or data), and location.
Note: Sometimes people will use the term resources as a shorthand to mean just the human resources.
Related: resource calendars, activity resource requirements, constraint, resource calendar, activity resource requirements, earned value management
External links
Edit
Wikipedia on resource (project management)
Ad blocker interference detected!
Wikia is a free-to-use site that makes money from advertising. We have a modified experience for viewers using ad blockers

Wikia is not accessible if you've made further modifications. Remove the custom ad blocker rule(s) and the page will load as expected.