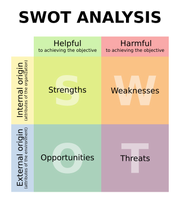 SWOT is an acronym for four categories of risk: Strengths, Weaknesses, Opportunities, and Threats. It is the basis for a SWOT analysis of risks by examining these 4 categories.
Strengths are the positive possibilities (risks) that may arise from within the project's organization. For instance, a related activity may result in deliverables that can be re-used and reduce the projects' cost and time for certain activities.
Weaknesses are the possible negative things that come from within the project's organization.
Opportunities are positive situations coming from outside the project's organization.
Threats are negative possibilities based on external circumstances. For instance possible delays caused by unseasonable weather or new legal regulation would be threats.
Related: plan risk responses, avoid risk, transfer risk, mitigate risk, accept risk, exploit risk, enhance risk, share risk
Ad blocker interference detected!
Wikia is a free-to-use site that makes money from advertising. We have a modified experience for viewers using ad blockers

Wikia is not accessible if you've made further modifications. Remove the custom ad blocker rule(s) and the page will load as expected.