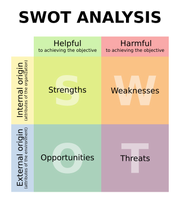 A SWOT analysis is one of the techniques that PMI recommends as part of the identify risks process (section 11.2.2.6 in the PMBOK 5th edition). SWOT stands for the 4 different types of risk to consider: strengths, weaknesses, opportunities, and threats.
See the risk and risk register articles for lists of potential risks to consider and types of responses. See the SWOT article for more about this framework.
| | | |
| --- | --- | --- |
| | Positive | Negative |
| Internal | Strengths | Weaknesses |
| External | Opportunities | Threats |
This framework helps identify risks. And by classifying the type of risk, it also informs the types of responses in the later process to plan risk responses. For instance, a project might mitigate an internal weakness by training. While other techniques are probably more appropriate for exploiting an internal strength.
Ad blocker interference detected!
Wikia is a free-to-use site that makes money from advertising. We have a modified experience for viewers using ad blockers

Wikia is not accessible if you've made further modifications. Remove the custom ad blocker rule(s) and the page will load as expected.