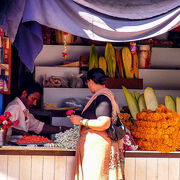 PMI uses the term seller for an entity outside of the project's organization that provides materials (e.g., supplies or equipment), services, staff or results. Sellers are also called providers, suppliers, vendors, or contractors. The transaction may be managed as a procurement, a purchase order, or governed under other, broader agreements.
Sellers are one of the roles in the project team.
The "selected selller(s)" are determined in the conduct procurements process. Some sellers may be prequalified based on guidance from an organization's procurement team or prior research. (This prequalification is part of the organizational process assets.)
Related: vendor bid analysis, seller proposals, plan procurement management, advertising, source selection criteria, seller proposals, request for proposal, request for information, request for quote, vendor bid analysis, bidder conference
Ad blocker interference detected!
Wikia is a free-to-use site that makes money from advertising. We have a modified experience for viewers using ad blockers

Wikia is not accessible if you've made further modifications. Remove the custom ad blocker rule(s) and the page will load as expected.